What to do with leftover Halloween candy??
Freeze It: Pop it in the freezer for super chilled snack some time later, or to jazz up your cooking and baking throughout the year.DIY Healthier Snacks: Dole out extra candy in treat sized bags of trail mix by adding in peanuts, pretzels, raisins or other dried fruit.Gifts That Keep on Giving: Use excess treats and sweets to decorate gift packages or fill a mug, box or basket for a gift all its own.Thanksgiving Turkeys: Candy corn transforms cookies or cupcakes into too-cute turkeys.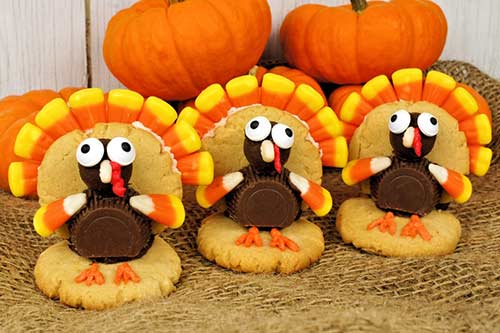 Christmas Creative: Put extra candy to creative use by designing your own gingerbread house or to decorate Christmas cookies.Give It Away: Donate to someone who will enjoy it -- a local shelter for families and individuals, a nursing home, or send it to service men and women. Operation Shoebox is one organization that accepts candy to send in care packages to troops.Make It Into New Treats: You can bake candy into cakes, cookies and brownies, deep fry it, or even use it to infuse alcohol. Check out this whole list of suggestions on Pinterest.Sweeten Up Your Coworkers: Take the extras to your office or workplace, and it will disappear like magic!