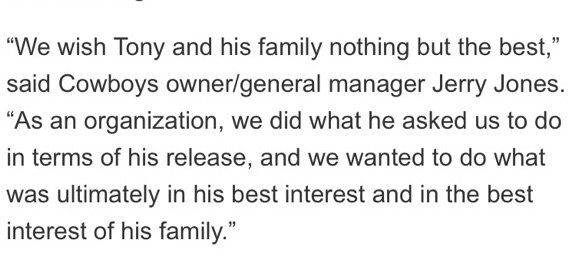 TONY ROMO has retired from the NFL and joined CBS, where he'll reportedly replace Phil Simms and call games with Jim Nantz. It's unclear what's happening to Simms, who's been with CBS since 1998.
Romo played 14 seasons, all of them with the Dallas Cowboys. He made the Pro Bowl four times, most recently in 2014. He didn't play much after that . . . suffering a broken left collarbone in 2015 and a broken back last year.
He wasn't expected to return to the Cowboys next season after the emergence of Dak Prescott . . . but his retirement is surprising, because several teams, including the Houston Texans, were reportedly interested in signing him.
The sports media is saying the Texans are screwed now, because they traded Brock Osweiler and a second round pick to the Cleveland Browns to clear salary cap room, under the assumption that they'd be able to land Romo.
Now, they're stuck picking from the likes of Robert Griffin the Third, Colin Kaepernick, Ryan Fitzpatrick, and Jay Cutler.
In a statement, he said he always wanted to be a broadcaster after he was done playing.
And of course, he IS still free to return to the NFL, but he insists his playing days are over.
Read CBS's statement here: http://on.si.com/2nBfMky
His message to fans on twitter - listening to Bob Dylan in the background - good taste Tony!